Looking to design & print your own custom flag instead? Check out our new side project and webshop, Flagmaker & Print

✔️ New and improved! Our new flag stock includes enhanced thickness, faster shipping and local printing for both the US and European customers. Enjoy tariff-free shipping and fast delivery all across the US and Europe.

✔️ This is a single-sided wall flag. Looking for a double-sided flag for outdoors use? Find yours here!

Live Free Or Die. Nobody is sure where the New England Flag first appeared, only that it was present as early as the first iterations of the Second American Civil War in the mod. The flag is based on an old pre-Independence War naval flag that is now associated with the region in general.
This 36"x60" wall flag is made of 100% polyester knit; equipped with grommets for an authentic look and feel. The flag is a one sided semitransparent print perfect for indoor applications.
• Indoor Use Is Suggested to Maximize the Life of the Flag.
Customer Reviews
99
reviewers would recommend this product
Write a Review
Ask a Question
12/26/2022
Fildarius t.

Spain
AMAZING
It was an amazing experience! It was everything I hoped for! I have to apologize for the double review, my old one does not appear!
12/21/2022
David V.

Portugal
Syndicalist Portugal
There are two kinds of people in the world. The ones that know what "fess", "pale" or "finial" mean, and those that don't. For those of us who belong to the first group, this was the site that we were waiting for!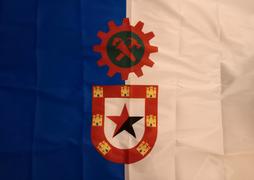 01/11/2023
Kaiser Cat Cinema Webshop
Thanks for the kind words David! Great to see a cheeky syndicalist Portugal on here :D Regards, Vincent
12/11/2022
Lee L.

United States
Very good flag
I ordered this flag for a 4H display. It is single sided. I didn't want to put much into it because I didn't know how it would turn out. Still, it looks great and cost about 1/3 of the competitor's estimate.
01/11/2023
Kaiser Cat Cinema Webshop
Hey Lancaster, thanks for the kind words! Since your order here, we now have double-sided flag printing available if you are ever looking for a new flag Regards, Vincent
12/08/2022
David

Portugal
I recommend this product
The Syndicates sail on.
Glory to the Syndicates! Blow the bourgeoisie out of the water with this magnificent flag. This puts the "class" in "classless society". Great quality, shipped promptly, I'll definitely be making more purchases in the future.
12/07/2022
Aaron M.

United Kingdom