The Kaiserreich 'Adler'-crest, designed by Vincent in 2016, was based on German Imperial and Prussian iconography. Get a sip of Guard The Balance in every morning coffee with this Kaiserreich logo mug. This is a glossy, sturdy white mug that is dishwasher and microwave resistant.

• Ceramic
• Dishwasher and microwave safe
• White and glossy
Customer Reviews
Write a Review
Ask a Question
08/19/2023
Anonymous

Spain
06/25/2020
Patrick D.

United States
I recommend this product
Beautiful mug!
An amazing mug! It looks great, comes just as advertised, and I use it often! However, if I had one nit-pick, it would be that the Alder is opposite of the handle, which is odd. However, it still deserves a buy by any Kaiserreich or KCC fan looking for a high quality mug!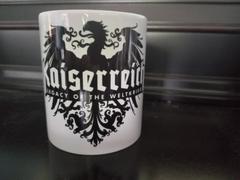 06/30/2020
Kaiser Cat Cinema Webshop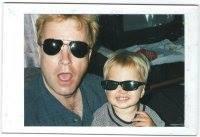 BB
01/05/2020
Bruce B.

United States
I LOVE THE MUG, THE
I LOVE THE MUG, THE POSTER, THE TSHIRT.....that is why.
I recommend this product
Great product, weird shipment
The Kaiserreich mug itself is great and it lives up to what I expect in functionality. The only gripe I have agaisn't the cup it self is that I would have preferred the logo not directly across from the handle but that's just opinion. My biggest gripe was the shipping. I understand that Kaiser Cat Cinemas is small compared to other companies so I can understand shipping is expensive, however if I didn't have a shipment scare aswell as the shipment price I would have given it five stars. When the cup was shipping for some reason Kaiser Cat Cinemas kept showing that my cup was going to be sent to a different location compared to it's deleting address, even when I received the item the website showed it sent somewhere else, otherwise the shipping had no problem besides that moment of brief panic. Overall would recommend.